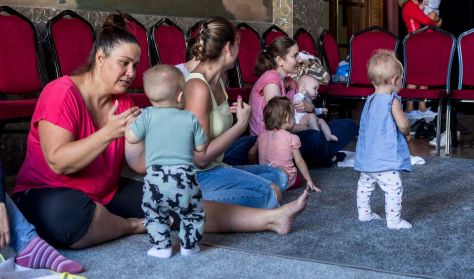 Sing-along Baby
Please note that this programme is in Hungarian and we do not provide translation.
A foglalkozásokon a legkisebb korosztály zenei nevelésére kapnak mintát a szülők a kodályi elvek alapján. Szeretettel várunk a Ringatóra már néhány hónapos babákat is, és minden olyan anyukát, apukát, nagyszülőt, aki szívesen énekel, játszik együtt a kicsikkel oldott, szeretetteli légkörben. A program egyaránt szól azoknak, akik szívesen énekelnek, vagy éppen az éneklésben bátortalanok, és épp ezért vagy ennek ellenére úgy érzik, fontos, hogy a művészet eszközeivel neveljünk, és szívesen bővítenék dalkincsüket. A foglalkozásokat újszülöttkortól hároméves korig ajánljuk; várandós kismamákat is szívesen látunk.

Instruktor: Ujvári Klára
Helyszín: Eiffel Műhelyház – Ottrubay oázis

Alkalmak: hetente egy alkalommal, csütörtökön 11:00-től (30 perc)
Fairy tales and music from a far-off land
Let the children come to us!
Dexterity, opera, and ballet at Eiffel
Warning! The basket time limit is about to expire!
estimated time left:
00:00
Time limit has expired. Please, put item(s) in to basket again.
---