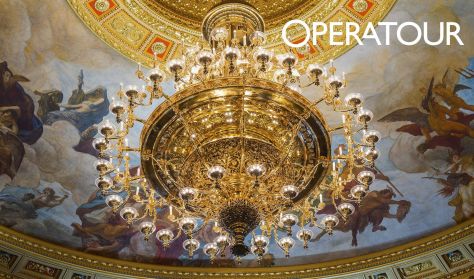 OperaTour - Hungarian
Hungarian-language tours start every day at 13:30, 15:00 and 16:30. Price: 5000 HUF
Guaranteed tours:
A 60-minute tour starts every day at 13:30, 15:00 and 16:30 in English and French. To request a tour in other languages (Spanish, Russian, German), please get in touch with the OperaTour team. Price: 7000 HUF
Hungarian-language tours start every day at 13:30, 15:00 and 16:30. Price: 5000 HUF
Tours include a short concert at the end featuring the soloists of the OPERA. Photography for non-commercial purposes is allowed (flash photography and tripods are not permitted).
Soloists: Anikó Bakonyi, Gergely Biri, Zsófia Nagy, Zoltán Megyesi, Attila Erdős, Diána Kiss, Gergely Ujvári, Máté Fülep, Ninh Duc Hoang Long.
Private tours:
Private tours can be ordered between 9:00 and 13:00 every day in case of at least 15 people paying. Alternatively, private tours with separate guides can take place at the time of guaranteed tours. 
Foreign language private tours: 5500 HUF / person (with concert), 4000 HUF / person (without concert)
Hungarian private tours: 3500 HUF / person (with concert), 3000 HUF / person (without concert)
Concerts for private tours can also be provided on request: 45 000 HUF / concert
REGISTRATION FOR PRIVATE TOURS
Tickets are available at the box offices or online. The tour starts in the entrance hall at the information desk. Children under the age of 3 go free.
Groups are limited to maximum 30 visitors.
Please note that the auditorium is closed for visits during rehearsals and performances.In case a guided tour takes place at such a time, the route takes visitors to special, hitherto unseen areas.
Further information:
Monday to Friday 10:00-17:00
e-mail: tour@opera.hu
phone: +36 30 781 2630
Hungarian-language tours start every day at 13:30, 15:00 and 16:30. Price: 5000 HUF
Beginning with 15 March 2022, at the completely restored Opera House guided tours are available again for fans of architecture…
60-minute tour starts every day at 13:30, 15:00 and 16:30 in English. Price: 7000 HUF Beginning with 15 March 2022,…
Warning! The basket time limit is about to expire!
estimated time left:
00:00
Time limit has expired. Please, put item(s) in to basket again.
---