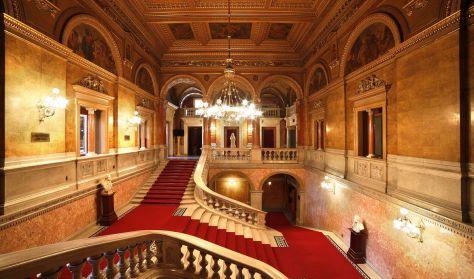 OperaTour
idegenvezetés és koncert
Designed by Miklós Ybl and inaugurated in 1884, the Opera House is the most imposing building in Budapest and a true architectural jewel box. The wood carvings and gilded, velvet and marble surfaces, stairways, balconies and frescoes inside are not only an unforgettable sight, they have also witnessed many exciting stories over the years. Although the structure has been under renovation and closed for performances since the summer of 2017, guided tours have continued uninterrupted during the reconstruction period. In spite of the work that is underway, the foyer, the grand staircase, the Feszty Bar, the Red Parlour, the Royal Staircase and the Székely Bertalan Hall can all be visited, and souvenir hunters are welcome at the OperaShop. 


Starting from 1 July 2020, guided tours of the Opera House will be conducted in both Hungarian and English. The Hungarian-language tours will take place on Thursday at 4 pm and Sundays at 2 pm, while our English-language tours depart every day at 2 pm, 3 pm and 4 pm.


Tickets can be purchased either on-line or in person at least 20 minutes before the start of the tour, during opening hours (from 1 July, every day between 12 pm and 5 pm), with cash or bank cards either in the OperaShop or at the booth set up for this purpose in the foyer of the Opera House.
Tickets for the tours cost HUF 2,500 per person, which includes the services of the guide, the 27% VAT, photo opportunities and a brief production.


Discounts:
-Admission is free of charge for children under the age of 6
-50% discount for children untill the age of 14
-20% discount for children over the age of 14, with a valid student card
-20% discount for senior citizens over the age of 65

The discounts can be validated when purchasing a ticket in person, the eligibility can be checked by our staff when entering the tour. The discount cannot be combined with other discounts.
In order to protect the health of our visitors and employees and in line with the effective health regulations, we provide amenities for washing and disinfecting your hands, and also ask that you wear masks.


If you have any questions or wish to make a group reservation, please contact our staff via email at tour@opera.hu or by telephone at +36 30 781 2630.
PROGRAMME:
Mozart: Cosí fan tutte – Dorabella's aria  /"E amore un ladroncello"/
Rossini: The Barber of Seville – Figaro's aria /"Largo al factotum"/
Rossini: The Barber of Seville – Don Basilio's aria /"La calunnia…"/
Mozart: Don Giovanni – Serenade /"Deh, vieni alla finestra"/
Puccini: La boheme – Musetta's aria
Leoncavallo: Pagliacci – Arlecchino's serenade /"O, Colombina"/
Donizetti: Don Pasquale – Malatesta's aria /"Bella, siccome un' angelo"/
Donizetti: L'elisir d'amore – Duet of Adina and Nemorino
Verdi: Rigoletto – Duet of the Prince and Gilda 
Mozart: The Barber of Seville – Duet of Susanna and the Count /"Crudel! Perché finora…"/

FEATURING:
Anikó Bakonyi, Gergely Biri, Attila Erdős, Máté Fülep, Melinda Heiter, Diána Kiss, Megyesi Zoltán, Zsófia Nagy, Ninh Duc Hoang Long, Bence Pataki, Gergely Ujvári, Donát Varga, Eszter Zavaros
Foto: Attila Juhász
Scenic cantata, in the original languages, with Hungarian and English surtitles