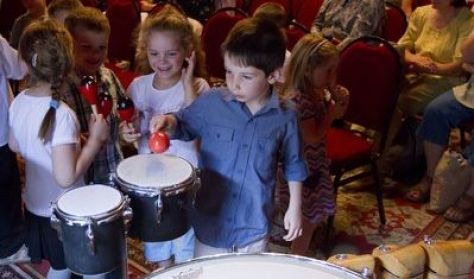 Afternoon Jam at the Erkel Theatre
Recommended for children ages 4 to 7
In all afternoon sessions participants can better acquaint themselves with a musical instrument together with its younger and older siblings. The layout of the Opera House's chosen venues makes it possible that this interactive programme takes place at just an arm's length from the young guests. The performance uses language that children can understand, but even adults can discover a lot of novelties about the world of musical instruments.

Hostess: Mária Nagy
Location: Erkel Theatre, Bernáth Buffet

Tücsök (Cricket) season pass (Sundays from 3 pm)
14 January 2018: Trumpet, Trombone
4 February 2018: Percussion

Fakopáncs (Woodpecker) season pass (Sundays from 3 pm)
18 February 2018: Piano
11 March 2018: Guitar, Harp
1 April 2018: Horn, Tuba
13 May 2018: Piano


Arrive with pre-purchased tickets 15-30 minutes prior to the beginning and use the Erkel Theatre's main entrance.

Hungarian-language discussion programme.
Nóra Rományi and István Rózsa have reconceived the visuals, based on the original…
Opera in two parts, four acts, in Italian, with Hungarian and English surtitles
Opera Tour with Papageno In Hungarian