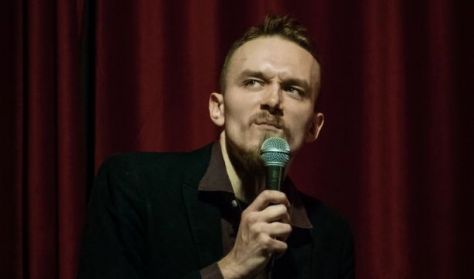 Denis Nikolin
Denis Nikolin is a rising up-and-coming Russian comedian on international stand-up scene, co-founder and regular MC of English Moscow Comedy, with more than 5 years of performing experience. Taken his act to 16 countries, Denis has developed his own style mixing his acting skills…
Tovább
Jelenleg nincs futó program!
Denis Nikolin is a rising up-and-coming Russian comedian on international stand-up scene, co-founder and regular MC of English Moscow Comedy, with more than 5 years of performing experience. Taken his act to 16 countries, Denis has developed his own style mixing his acting skills with deadpan deliveries, edgy and precise observations with his natural charm and wit, ability to laugh at himself and the world around him with a very constructive narrative of his sets, - which guarantees a very entertaining evening.
Being a charismatic yet repressed young man, this Russian comedian has already performed in the top comedy clubs of Europe and the UK, such as Stand-Up Store Moscow, Cosmic Comedy Berlin, Le Comedy Club Paris, The Stand Glasgow and Comics Club Bucharest. Headlining some of the shows and opening for other comedians, including Craig Campbell, Tony Law, Kai Humphries, Noman Hosni and Sorin Pârcălab.
Denis did his first full run at Edinburgh Fringe in 2018, participated in Utrecht International Comedy Festival 2019 and going to perform at other festivals of 2019, including Reykjavik Fringe, Sziget Festival and, of course, Edinburgh Fringe. He is also going to expand his tour "Bad Russian" to Asia, planning to leave comfortable Europe alongside unpredictable Motherland and make people laugh in the warm and cozy Pacific area.  
Reviews:
"Denis is an edgy and unpredictable talent with a sharp wit and a fearless approach that combines well observed Russian deadpan delivery with raucous and hilarious observations."Sam Rhodes comedian and promoter at Sam Rhodes Comedy Explosion, London, UK
 "Russian comedian Denis Nikolin speaks English more eloquently than most British people. He's intelligent, original, and very funny. A highly-educated, clear-thinking artist with experience of working as a journalist too, Denis Nikolin is a treasure on the international comedy circuit. He doesn't just use comedy to make people laugh, he builds bridges of empathy and understanding." Dave Thompson, comedian, UK/Budapest
"Denis is a brilliant one-of a kind comedian who I have had the pleasure of working with on multiple occasions. His ability to win over an audience in a matter of seconds is a guarantee for a wonderful show which will leave any crowd in stitches! "Tamas Vamos, Wein&COmedy, Vienna, comedian and promoter
"Denis Nikolin is an excellent stand up comedian and is now a rising star of the European comedy scene, including the UK, he is charismatic, naturally witty and very original, he has much to say and conveys his philosophy on life whilst making people laugh which is a precious skill to possess."Geoff Whiting, comedian and founder at Mirth Control comedy, UK
"Denis is a great comic, capable of holding the attention of late night festival crowds with ease. His fresh insights are must-see."Aatif Nawaz, BBC-3, comedian and promoter, Edinburgh Fringe Festival
"Denis is a truly original and funny act. He had the crowd in stitches and we look forward to him coming back."  Dharmander Singh, Cosmic Comedy Berlin 
"He's a fonny focker!!"  Joey Burrell, audience member, Dunfermline, UK
"Bad Russian" tour:
Denis has been performing for more than five years, cracking up audiences of 10 to 500 people. His "Bad Russian" persona has been developing since day 1 of doing stand-up and is, basically, Denis – a young Russian divorced man with a high level of common sense and a fetish for the surreal, finding himself in between worlds and in various ridiculous situations. Born and raised in the Motherland, Mr. Nikolin travels around the world breaking some of the stereotypes and proving some true, yet making audiences sympathize with his characters and even find little Russians within themselves (that's not a poison joke).  
After doing Edinburgh Fringe 2018 (22 solo shows and 38 other gigs), Denis Nikolin took his solo show across Europe for the first time in December 2018 and then in February-March 2019, making people laugh across 10 countries with 40 gigs overall. He is planning to continue touring in countries such as Spain, Portugal, Poland, Croatia, Iceland, Norway and in the end of 2019 – going to perform in South Asia. 
Teaser for the tour https://youtu.be/uUl6uzxVlrU  
Video from Comedy Cafe Amsterdam https://youtu.be/tKv0oj_TEVM
Video from Brodystudios Budapest https://youtu.be/ehBiGOVyxYA
Video from The Stand Glasgow https://youtu.be/khtSYFTDNro
Video from Cosmic Comedy Berlin 2018 https://youtu.be/UyX0uNQkaZA
Video from Cosmic Comedy Berlin 2019 https://youtu.be/NjzSwWBahnw
Video from Le Comedy Club Paris https://youtu.be/suY0OwK33lc
Video from Comics Club Bucharest https://youtu.be/7qjPyXOEGL4
FB page https://www.facebook.com/russian.comedian/
Insta https://www.instagram.com/russian_comedian/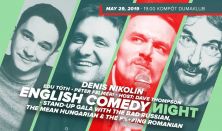 English Comedy Night - Stand-up gala with the Bad Russian, the Mean Hungarian & the F%+#ing Romanian
DNS-Dumaszínház Kulturális Egyesület
Egyéb